Deals and discounts - TWO TREES
Welcome to the "Deals and discounts" section
Here you can find the best offers on replacement parts and accessories for your 3D printers. This section is very important to us and we strive to offer you the best products at great prices.
We regularly update our selection so we can bring you the latest and greatest products on the market.
We want to provide you not only with excellent discounts, but also with top-notch customer service and personal attention.
If you have any questions or need help with product selection, don't hesitate to contact us.
We're here for you and will do our best to meet your needs.
Join our community and enjoy the best deals on the market!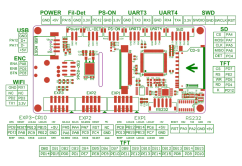 The TFT 35 V 3.0 display is an ideal replacement for the old display if you are changing the motherboard. TFT35 has two modes - touch and…